Fun Excursions in Montezuma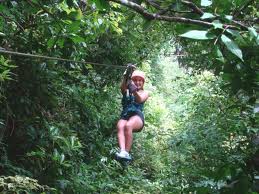 Montezuma offers a myriad of activities from relaxing yoga retreats to various outdoor pursuits. As a land famous for its natural beauty, fun excursions for this destination means spending time and enjoying nature's best. From the highlands to its little islands, here are just some of the activities that you can do while on a vacation in Montezuma, Costa Rica.
Zip-lining/Canopy Tours
Do you know that Costa Rica was the first to offer zip-lining as part of its tours and activities? Now almost all countries in the tropics offer zip-lining for holiday goers to add some adventure to their trips. Aside from being the first when it comes to this type of activity, ziplining in Montezuma entails "flying" over the lush jungles passing by wild animals. A total of 9 cables and 13 platforms, enjoy and experience the rich wildlife of Montezuma as you zip across the forest.
Montezuma Waterfalls
The waterfalls of Montezuma are one of its main attractions. Enjoying the waterfalls is not limited to dipping in the beautiful basins but enjoying exhilarating activities – plunging. Yes, diving into the basin from above. Exciting and really fun. Montezuma waterfalls are made of three cascades with different heights – 12-foot, 40-foot and the 80-foot. As you enjoy keep in mind that safety must come first. Take a guide and listen to their advice on the safest spot to dive.
Even if you skip the diving, the waterfall is a nice excursion. Hiking to its location passing rivers, local villages and some wild animals and plants makes this activity on top of the list. Then cool off as you dip on its clear spring water.
Horseback Riding
Give your body some rest as you continue exploring Montezuma, mounting on a horse. There are many horseback riding tours for guests to admire the scenery without exerting too much physical effort. Guests can typically choose two routes- along the coastline or following a mountain trail.  Beginners may find coastline tours great with the gentle breeze kissing your cheeks enjoying a higher view of the beach and its surrounding. Another trip is to pay El Chorro a visit riding a horse. Passing villages from the beach, a ride to the mountain makes your Costa Rican adventure very memorable. The mountain trail will also treat you with an amazing ocean view.
Montezuma Snorkelling
The waters of Montezuma is not just hailed for its clarity but for the richness underwater. Aside from swimming and basking under the sun, water-activities like snorkelling is a fun way to enjoy Montezuma. See colourful fish and feel the excitement as you swim together with amazing sea creatures. Perfect even for those with children. The best time is from December to April. Famous spots for snorkelling are Playas Las Manchas, Playa Las Rocas and Cabuya Island.
Diving
Those who want to explore the marine life and underwater world of Costa Rica can try scuba diving. From scuba diving tours to certification courses, this activity is indulging and very fulfilling. Diving deeper to witness not just a plethora of coral fishes but awe-inspiring rock formations. The Pacific Coast is the place where divers head for its warm and crystal clear water while a trip to Tortuga Island, 30 minutes from the main coast is a must with more fish species, sharks and wreck diving.
Surfing in Costa Rica
When the wind howls, it is time to get that board and enjoy the waves. Costa Rica has been named as one of the best surfing destinations in the world. Many visitors come to Costa Rica to enjoy surfing. From beginners to intermmediate surfers, there are spots perfect for each level. The best time for surfing in Montezuma is from May to November. There are many popular beach breaks like Playa Granda for beginners and Los Cedros for master surfers.
These are just some of the excursions waiting for you to enjoy when you take a trip to one of the best places on earth. Enjoy Montezuma with these fun and exciting activities. Here are a few links to help you book your excursions:
Cocozuma Traveler – Tour Operator and travel agency
Zuma Tours – One of Montezuma's tour operators
Costa Rica – Costa Rica travel and tourism website – hotels, real estate, activities, surfing, yoga, all-inclusive resorts.
Costarica-scuba.com – Costa Rica Scuba Guide – Cocos Island, Isla de Murcielagos, Catalina Islands, wreck dives, Tortuga Island, scuba shops, scuba certification classes, etc
Tortuga Island – Information about one of Costa Rica's favorite destinations, Tortuga Island