Restaurants in Montezuma
Posted on

admin

on

February 7, 2013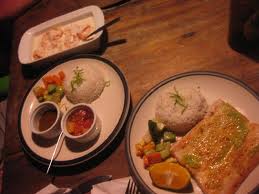 Here is a list below of some of our personal recommendations for eating out in Montezuma. Food is taken very seriously in Costa Rica and there is no exception in this little beach town – there are some fantastic options for everyone.
Cocolores
You MUST have their ceviche to start, and one of our favourite dishes is the fish fillet with banana curry (yep! banana curry). Get there early or make reservations…fyi they are closed on Monday. Check out This is Costa Rica
Playa de los Artistas
Great for lunch for an epic ocean view, or for a romantic dinner. It's hard to find but if you ask around someone can point it out to you. It's not in the main town, it's down the road closer to Montezuma Falls. See Trip Advisor for more info.
Puggo's
The fresh bread they bring you at the beginning of your meal is amazing! Perfect for lunch or dinner plus Puggo's is great for families with kids. Every dish is fresh and delicious. Puggo's on Trip Advisor
Café Organico
Café Organico serves healthy and locally grown dishes. Their smoothies are fantastic and they also have a great vegan & vegetarian selection. Make sure to drop in on Monday night when they host their regular Open Mic Night! Check out Organico
Tierra Y Fuego
Best pizza and pasta in the area. This Italian restaurant is such a gem but it's only open on Friday, Saturday and Sunday. The owners and staff are lovely, the food is fantastic and it's in a lovely "hidden" spot. Great for families or large groups. Tierra Y Fuego
Ylang Ylang
A lovely walk along the beach will take you to a fantastic restaurant that is a part of the Ylang Ylang resort. It's one of the largest menus in the area and they have a large selection of vegan and vegetarian dishes. Great for lunch or dinner and a perfect spot for families or large groups…or a romantic dinner for two. Ylang Ylang