Surfing in Costa Rica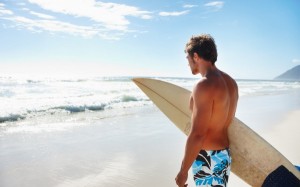 Surfing is no longer the sport of the daredevils as more and more people are enticed to catch the waves while riding a board. As it used to be monopolised by Hawaii and other Pacific Islands, more countries are now converted into surfing destinations by beginners and aficionados alike, looking for and discovering new and exciting places. Who would have thought that Latin America was going to end up being one of the raddest surfing destinations?
Why Costa Rica?
Costa Rica is now hailed as one of the best places for surfing from beginners to experts. It offers a tranquil destination that mirrors the indie and cool persona of surfers. The idyllic setting of this country also completes the whole picture. A place to find passion in the midst of tall and dramatic waves before crashing to its pristine shores.
Physically, Costa Rica appeals to surfers who prefer to conquer swells and breaks in more remote locations which are carefree and hip. Likewise, the warm weather of the country and the consistency of its breaks makes it an well-rounded destination. No need to wait for a certain season or anticipate stronger winds.
Part of the success of shaping the country's reputation as a top surfing destination is the affordable price. Hawaii and Guam are costly, same with the top surfing spots in California. Going to Asian destinations like Bali can also be costly. It is a haven for budget-conscious surfers or those who just want to maximise their money's worth. On top of it all are the local's attitude – hip and equally cool to jive with their visitors' style of adventure.
Where to surf in Costa Rica
There are 50 breaks in Costa Rica as both its coasts – Pacific and Caribbean are feasible for surfing. This explains a common travel tip on Costa Rica surfing that you can just get in a vehicle and stop at a break or beach that you feel comfortable, and hop on your board.
Pavones in the southern Pacific coast is known for its longest rides – the longest in the world. Come here from April to October.
Playa Hermosa is also a favourite venue for international tournaments and contests with waves as tall as 200 meters high. It is named as the 2nd best surfing spot in the country and is a 40 minute drive from Casa Divina.
Santa Teresa specifically, "La Lora Amarilla" is famous for the unique shape of the breaks – hollow and A-shaped. It can be as long as 150 meters. Santa Teresa is a 30 minute drive from Casa Divina. Santa-teresa-maps.com – Maps, accommodations, surf resorts, and travel guide for Santa Teresa, Costa Rica
Playa Avellana creates riverbreaks that are shorter at 50 meters. Its popularity is due to the outstanding beauty of its beach.
Lastly, Guiones located on the northern part of the Pacific coast. Perfect for surfers looking for stronger waves. Best time to visit from November to April and fro July to September.
Beginners shouldn't shy away from Costa Rican surfing environment. There are many packages that new surfers can try and learn surfing. Remember, the best souvenir is a new skill from your trip. Most of all, Costa Rica is more than just a surfing destination with its well-preserved natural beauty and the locals' charm.