The Amazing Arenal Area in Costa Rica
Posted on

admin

on

January 14, 2015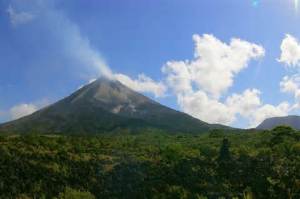 One of the many things that differentiate Costa Rica from other travel destinations is eco-tourism. Costa Rica is the place to visit for those who want everything and the best from nature. With its country covered by rainforests and conservation efforts both from the government and private sector, Costa Rica is the birthplace and capital of eco-tourism.
Everything you can dream and expect from nature can be experienced and felt in Arenal area with Mt. Arenal as its focal point. Located in the northwestern region of the country, this area is only 90 kilometers from the capital city of San Jose. This is a place for tourists who want to live what Costa Rica is famous for – nature.
Arenal Volcano
Tourism in this area revolves around the iconic and imposing landform – the Arenal Volcano. This volcano has been one of the world's most active peaks and its last eruption of molten rocks and ashes as only 3 years ago. Until now, tourists can still have a chance to witness this famous volcano releasing smoke.
The volcano gives birth to hot springs, verdant forests and healthy eco-system which, in return, is very advantageous to the local tourism in Arenal area.
Lovely Towns in Arenal Area
With its rich soil, locals known as Ticos, settled around the area close to the volcano, and now it also hosts thousands of visitors annually. Travelers can maximize their time in Arenal by spending a couple of nights in these towns. Hot spring resorts can be found within the vicinity, with most of them offering day tours to guests.
La Fortuna
La Fortuna tops the list and is located right at the foot of this famous Costa Rican volcano. Plenty of choices for accommodation, dining and shopping yet still holds the local Tico charm. La Fortuna also has many gardens and hot springs suiting all types of travellers.
Nueva Arenal
Nueva Arenal is another local destination in Arenal area. This is the best place for those who want to stay close to Lake Arenal. Fishing and wind surfer enthusiasts choose to stay at Nueva Arenal, but aside from fishing and wind surfing guests will have a great time kayaking the calm waters of the river or simply relaxing with a great mountain view of Mt. Arenal.
Nature-inspired Activities
The Arenal area is one of the few destinations that can truly say that they offer a myriad of activities. Not just for nature-lovers, but also for those who love the outdoors in general, this area offers tourists a chance to enjoy what the Rainforest really has to offer. For those who want to go out, hiking and trekking is a must. Trek the Arenal Volcano Natural Park and see the waterfalls, caves, rivers, and see the diverse plant and wildlife species.
For some downtime, relax those muscles by dipping into hot springs found in various resorts in Arenal area. Enjoy the hot waters, relieving your aches while removing toxins from your body.  Guests used to enjoy watching lava shows at night, but for now the lava has stopped flowing although you can still see smoke coming from the top on a clear day.
A visit to Arenal area let every traveler experience what Costa Rica tourism is all about – enjoying and paying homage to Mother Nature.