Weather in Costa Rica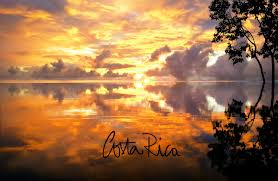 Costa Rica is blessed with a lovely climate for most of the year. Its fair tropical weather makes it more attractive for those searching for nice place to vacation and sojourn. Sunrise and sunset occur almost at the same time every day (6am & 6pm), and the average temperature is between 20º-30ºC. It gets hotter from 10am – 3pm and cools down at night and dawn.
An important fact when travelling in Costa Rica is that there are some slight differences when it comes to local climate. Some areas can have different weather from other places as the country is divided into climate zones based on the elevation. Areas in the lowland have dry climate while those in the highlands experience a more misty temperament.
Costa Rican Seasons
Costa Rica also has two seasons – the wet and dry seasons. Wet season (or green season) is from May to October, and dry season is from November to April. The dry season is basically summer with less rain, perfect for beach holidays. The dry season also signals the peak season for Costa Rica's tourism as it also falls during the cold winter season in other countries like in Canada, United Kingdom, US and Germany. Costa Rican summer is the sweetest escape from the harsh winter. The wet season on the other hand, showers the beaches and forests of the country giving birth to a nickname, " the green season". The wet season gives visitors a chance to avoid the crowds and enjoy the beach and resorts for themselves. The rain normally falls during the evenings which gives tourists the days to explore the country and enjoy the beach.
Local weather in Montezuma
Montezuma is one of the areas within Costa Rica that has a drier climate. Located in the northwestern region facing the Pacific, Montezuma has the sunniest and driest climates throughout the country. The rain is least expected in Montezuma making outdoor activities on top of every visitor's list. Montezuma has longer dry season and shorter tropical rainy season.
While other areas start to have rainy days in May, Montezuma still has a nice sunny weather for at least 3 more weeks. Rainy season is also cut short.
As a whole, Costa Rica, and local destinations like Montezuma, has the perfect climate. Visitors and travellers can enjoy its natural beauty anytime of the year.
For more information about Montezuma visit: http://www.nicoyapeninsula.com/montezuma/