Yoga in Costa Rica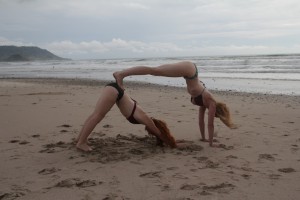 The rest of the world has finally embraced the  philosophies of yoga with millions of people practising it. From daily classes in studios, it is now incorporated in travel with resorts offering yoga sessions to their guests. India as the birthplace of this incredible practise is the sanctuary for yogis and yoginis but you don't have to travel all the way to India as new destinations consequently have become a hotbed for yoga. One of these is Costa Rica.
You may have seen some photos of the Brazilian supermodel Gisele Bundchen striking a pose (a yoga pose that is) in her Costa Rican home. Yes, Costa Rica is famous for yoga not just for celebrities but for people seeking a calm and soothing holiday. When people travel to this amazing country facing both the Caribbean and the Pacific, yoga is on top of the list.
Finding your centre in Costa Rica
Yoga goes beyond physical; it is mental, emotional and even spiritual – a holistic approach toward health and well-being. Costa Rica offers calm waters and lush vegetation – a perfect environment for practicing yoga. Retreat houses and resorts offer the best yoga packages and services worldwide. Yoga retreats with packages not just for daily yoga classes but also include healthy meals like organic, raw or gluten-free. Guests can also attend drop-in daily yoga classes in various resorts. The tranquillity of Costa Rica makes it perfect for meditation, one of the essential part of yoga practice.
What more can you ask for in a holiday  where you do your bends and twists enveloped with the relaxing hues of blue and green from the ocean and the forests as soft breeze softly touching your skin?
Furthermore, Cost Rica is not only a destination to learn and practice yoga but for training for yoga teaching certificates. Enrol in a certification class and you will enhance your knowledge on the anatomy of certain bends and flows as well as coaching on how to become the best yoga teacher. Yoga in Costa Rica is a serious endeavour, a leader in promoting wellness with this ancient practise.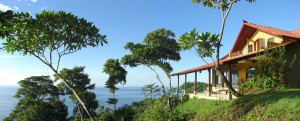 Anamaya Body Mind and Sprit Retreat Center is one of the most famous yoga resorts in Costa Rica. It is located in Montezuma and in one of the world's Blue Zones – a distinction reserved for 5 areas in the world known for longevity and healthy people. Anamaya, from the Sanskrit word "good health" offers yoga retreats and yoga services to all its guests. Guests can participate in different yoga styles like hatha, vinyasa flow and even the fun and challenging aerial silks. An ocean view yoga deck to enhance the senses during the session adds to the experience. This resort is also surrounded by nature's best beaches and waterfalls showering guests the most relaxing and pampering experience in Costa Rica.
Escape the toxic life and follow the flow toward healthy living. Come to Costa Rica!
Anamayaresort.com – Yoga teacher training and retreats in Montezuma Costa Rica. Eco lodge, surfing, organic food, and more.